Hey there!
My name is Stacy, and I am passionate about the outdoors! Though the love was always there, it was really reignited when I visited Jackson, Wyoming on my honeymoon.
I met my husband in the Navy on the USS Iwo Jima in 2010, and we got married on May 11th, 2013. As part of our honeymoon, he took me back to where he was from.
Little did I know, I had gotten pretty darn lucky and married a guy from Jackson, Wyoming which is right next to Grand Teton National Park!
We went on a fun hike to Dissapointment Peak for our honeymoon, and hoped one day to retire in Jackson. The homes are kind of pricey, so we didn't expect anything soon.
Then one day, a job offer as well as a housing oppoturnity lined up! The day I got out of the Navy I jumped into a moving truck and headed out!
We now live in Jackson Wyoming and try to take full advantage of the beauty around us, no matter how many kids or effort it may take!
We all know getting out with kids is a little harder, but if you keep trying it will get easier, you will find your flow, and your kids will get the same love of nature as you!
My husband's name is Eric, and we have three amazing children. Luke who was born in 2015, and our twin girls Emma and Summer born in 2017. We are busy, but oh so happy!
We have bought a small camper, and try to get out as much as possible.
Stay tuned for our adventures!
!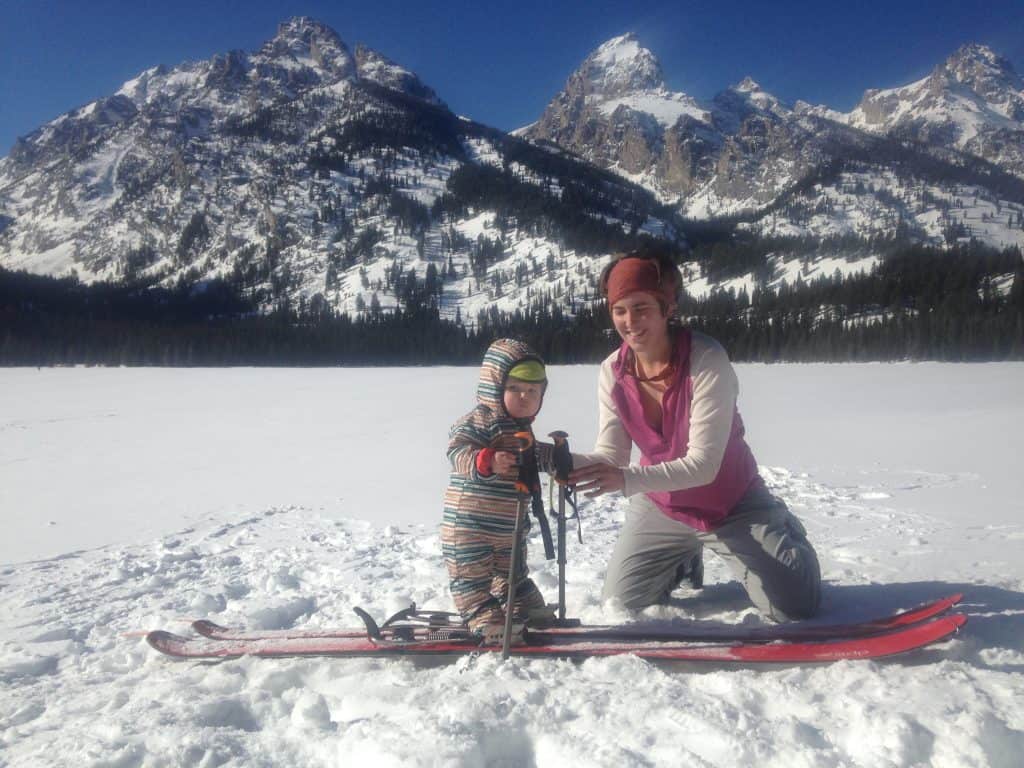 Skiing in Grand Teton National Park!
Here are some other random facts about me
I LOVE gardening; all of my gardens are full of wildflowers. Lupine and sunflowers are my favorite! I have been known to call the power company in tears when they tramped through my garden.
I have a super childish sense of humor (I will be the parent cracking up while trying to tell my son he shouldn't fart on stuff)
I absolutely positively LOVE Game of Thrones! I have read the books and watched all the episodes. I can't wait for the next book to come out!
I really like bugs and dinosaurs, even more than my husband. When we took our son to the dinosaur museum, I think I was more hyped than he was.
Probably not random since I'm a mom, but I REALLY love my morning cup of coffee. I'm kind of a impatient cranky woman without it! The best though is "Cowboy Coffee" which we make when we're camping; just boil some water with grounds in it. It'll put hair on your chest!